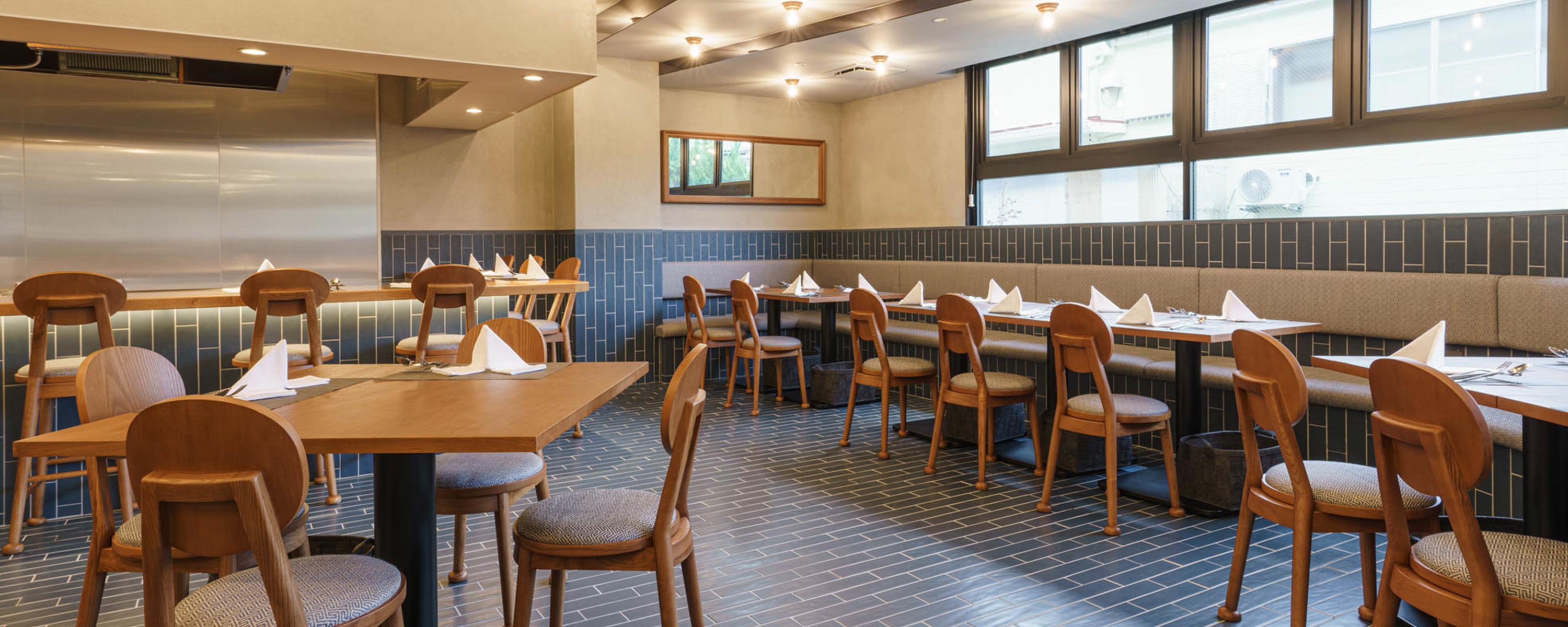 Aoka's signature blue tiles and warmly glowing inlaid ceiling lights create a pleasing milieu for all-day dining.
For groups of up to 10 people, a private dining room is available. Recommended for group and family celebrations and parties.
restaurant umigoto

Enjoying the Bounty of the Sea around the Goto Islands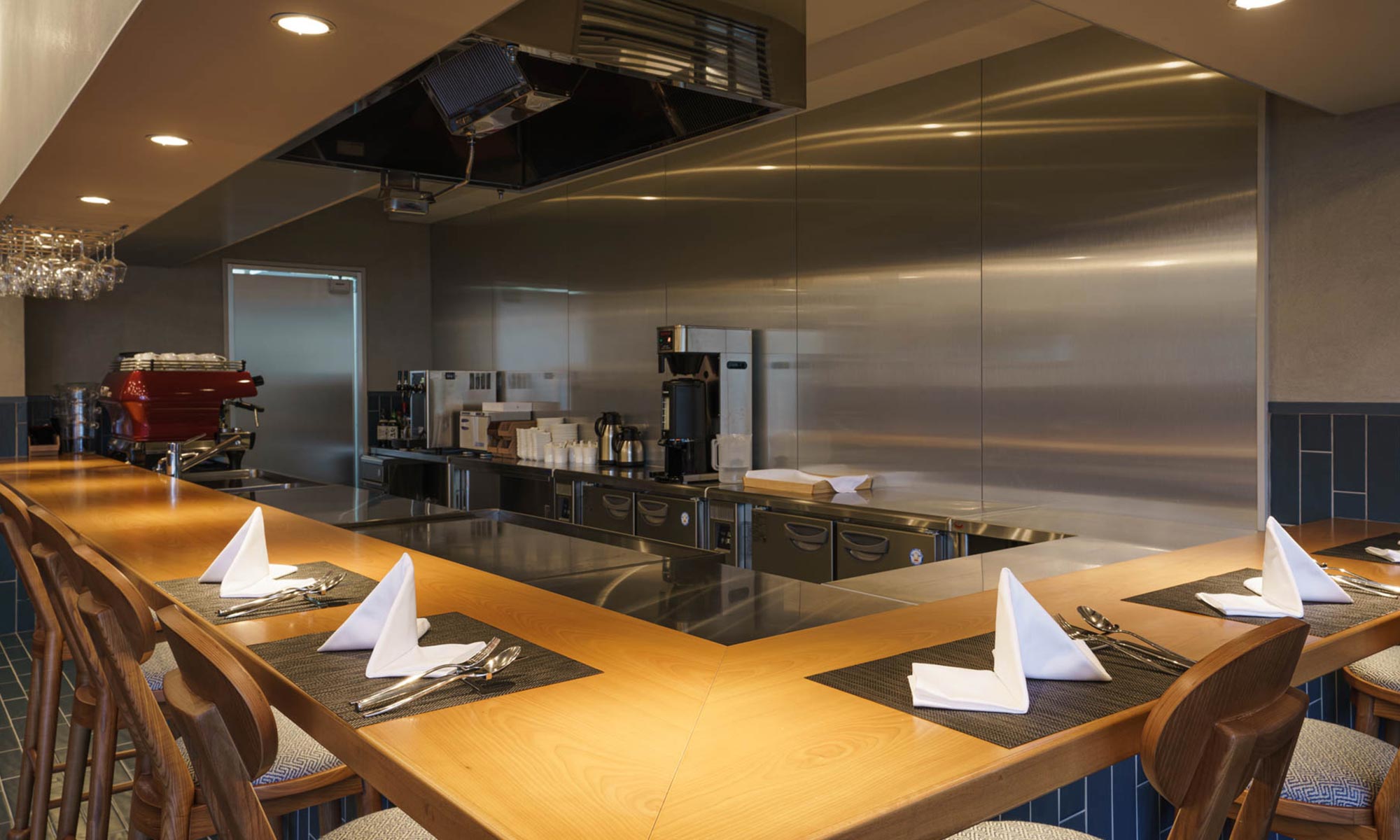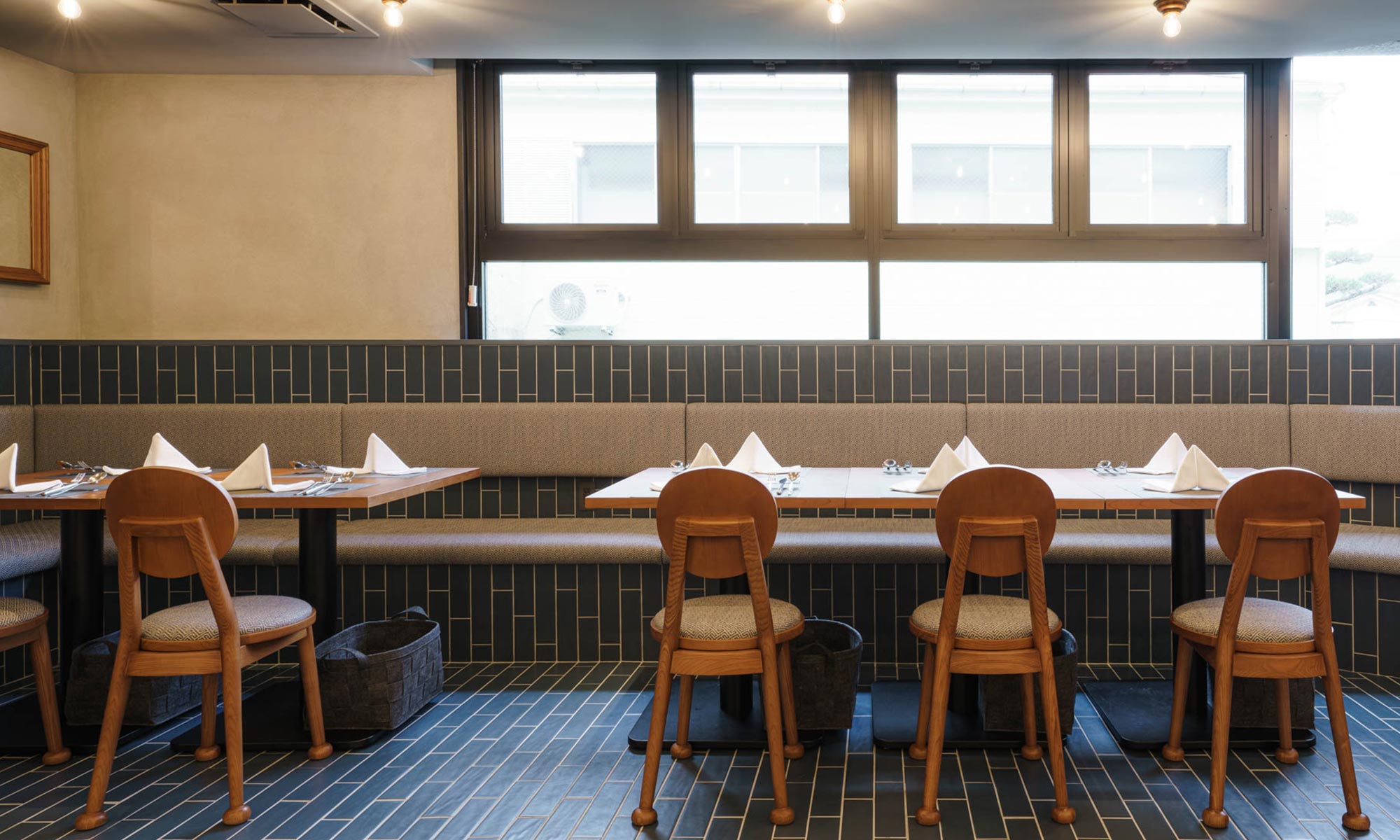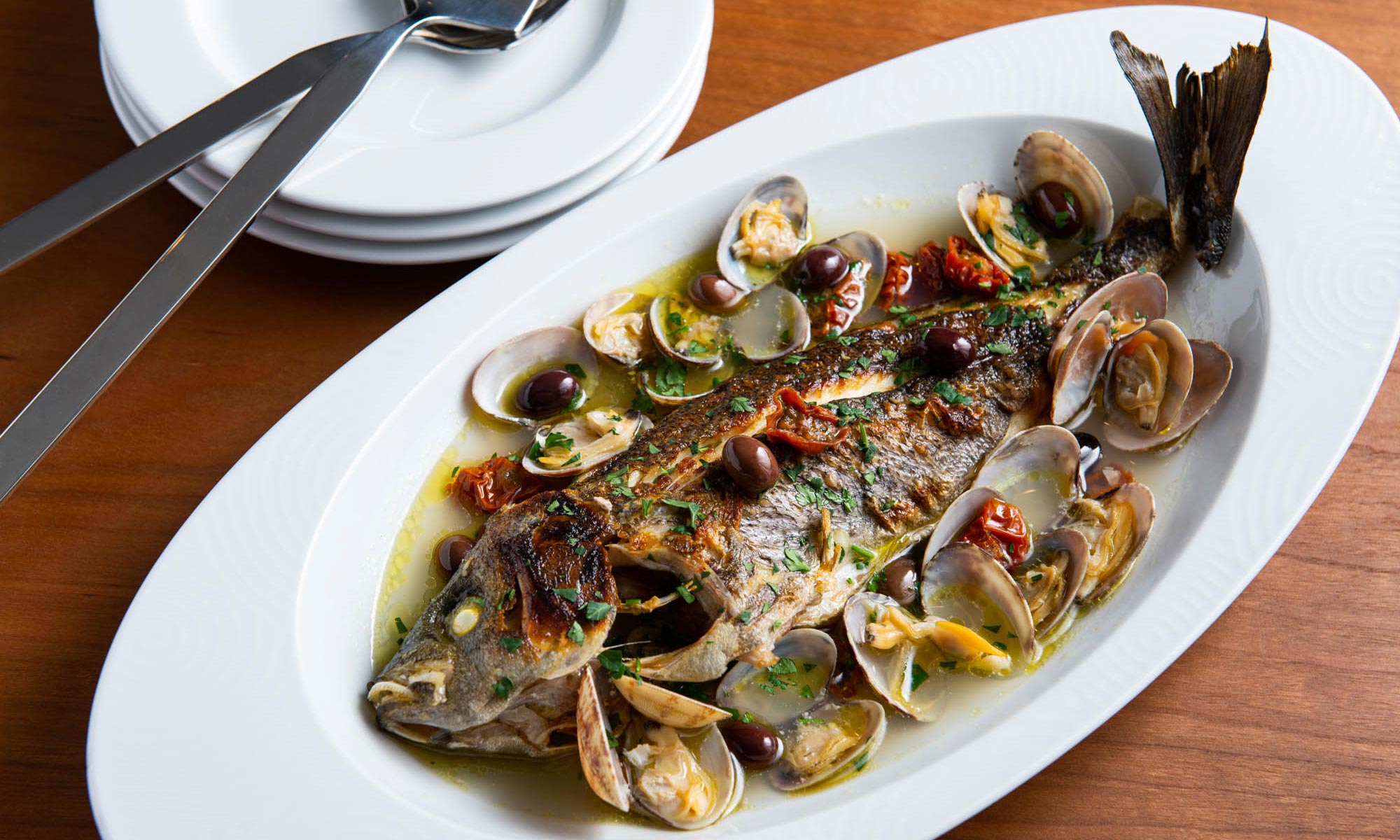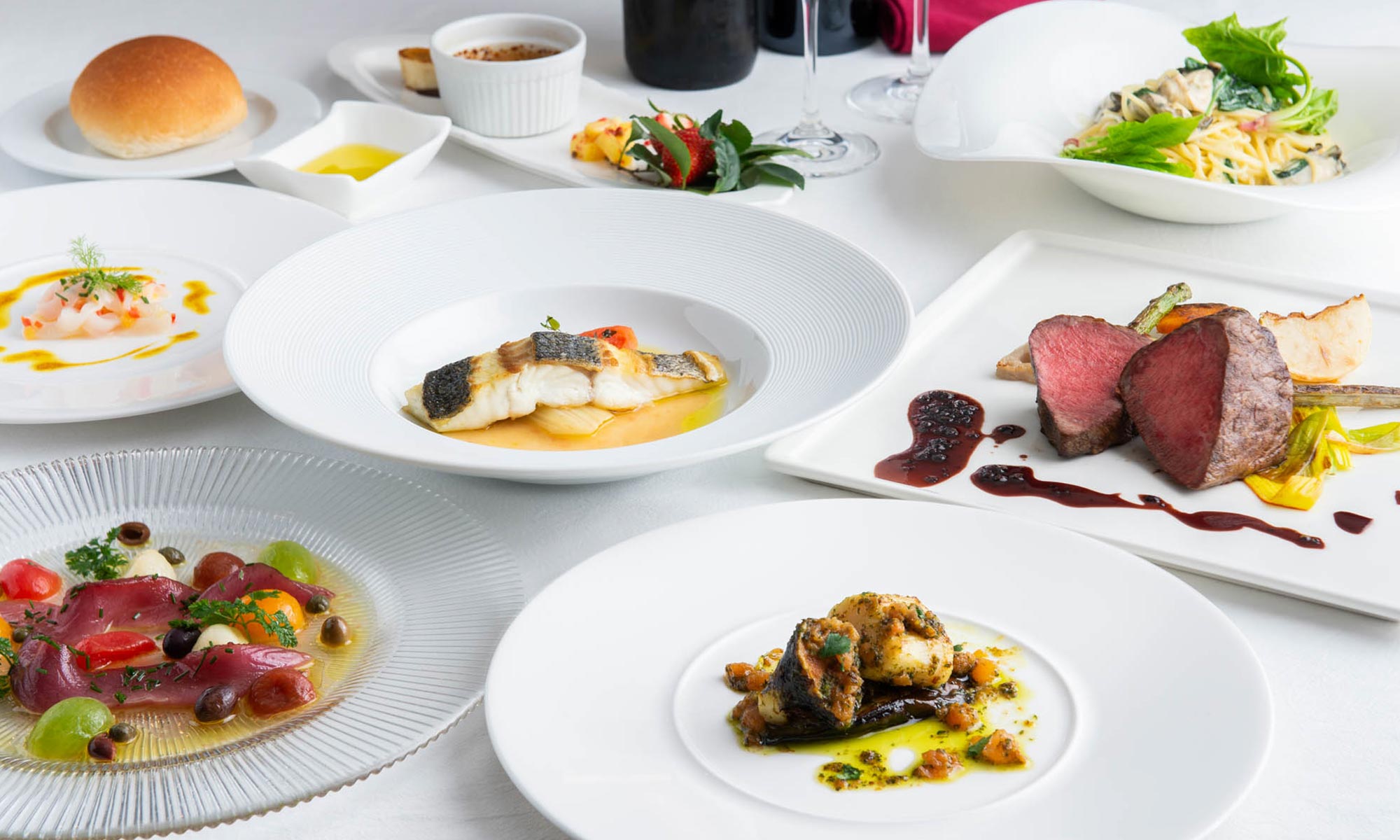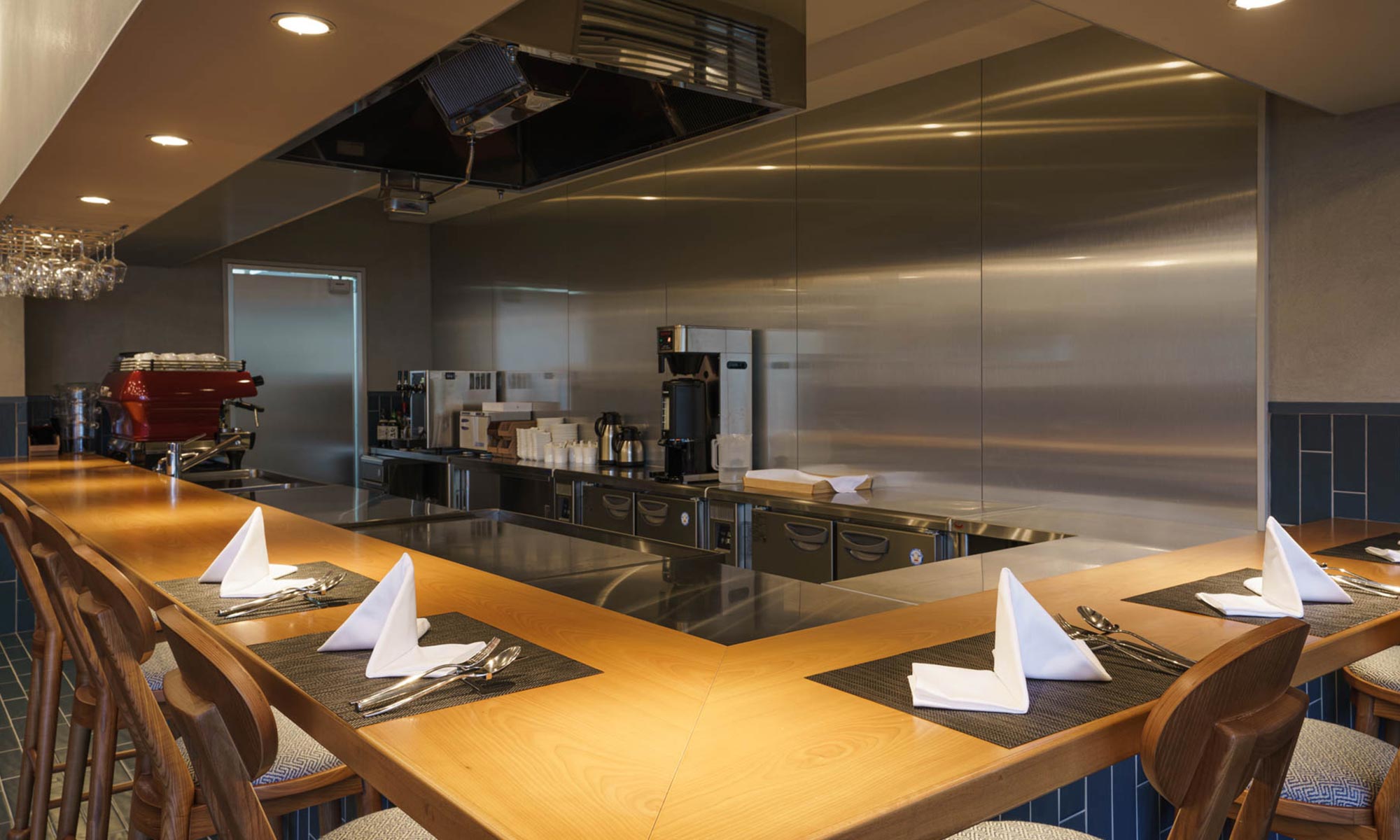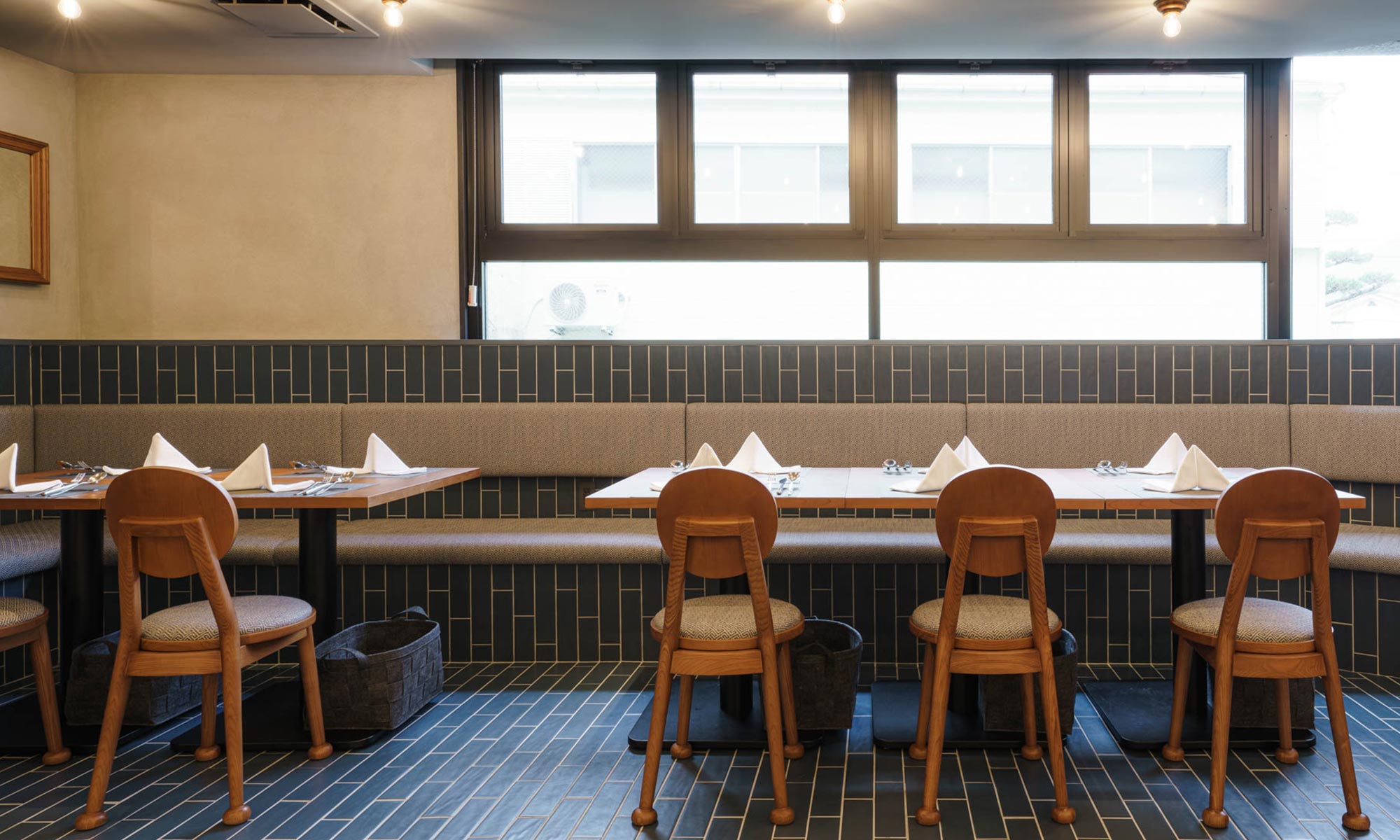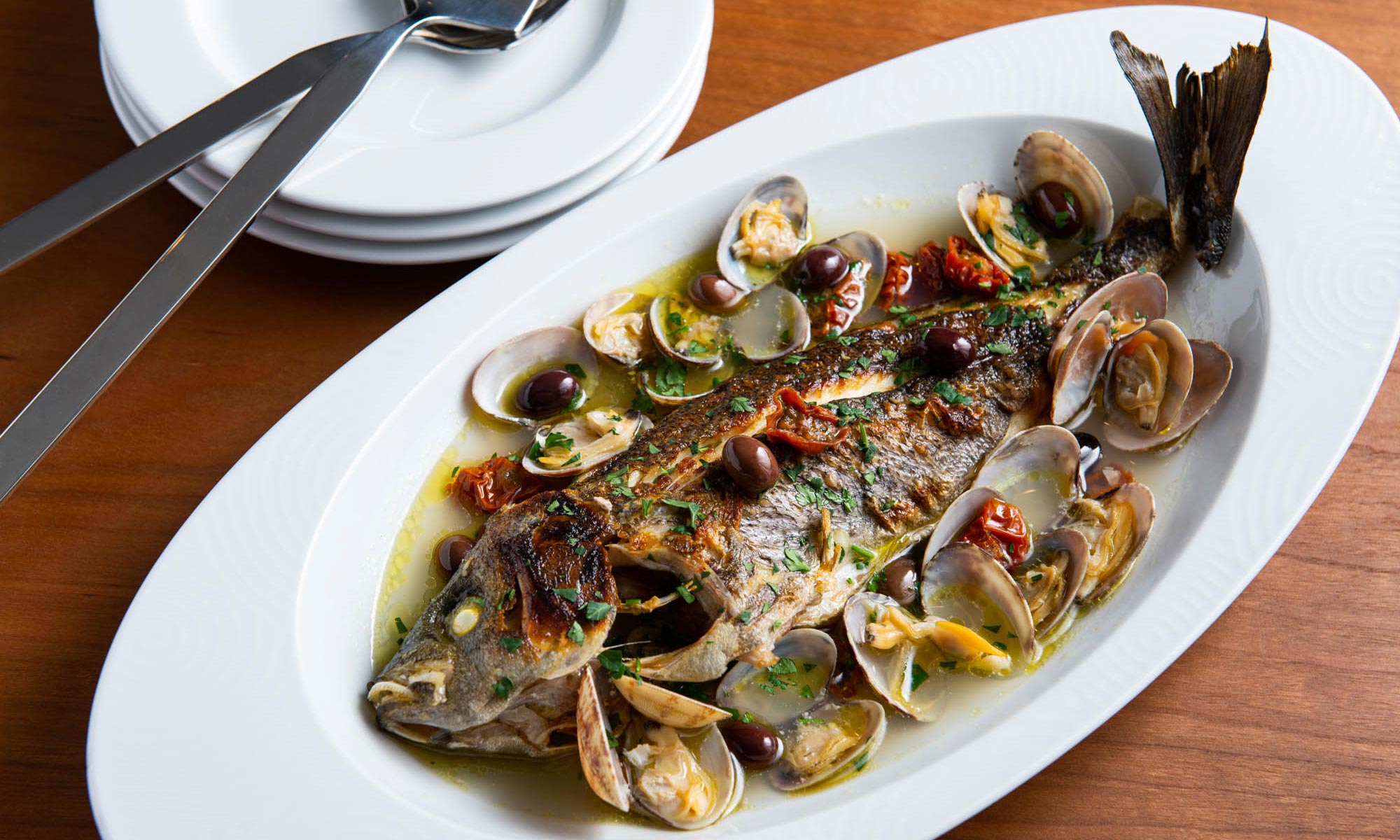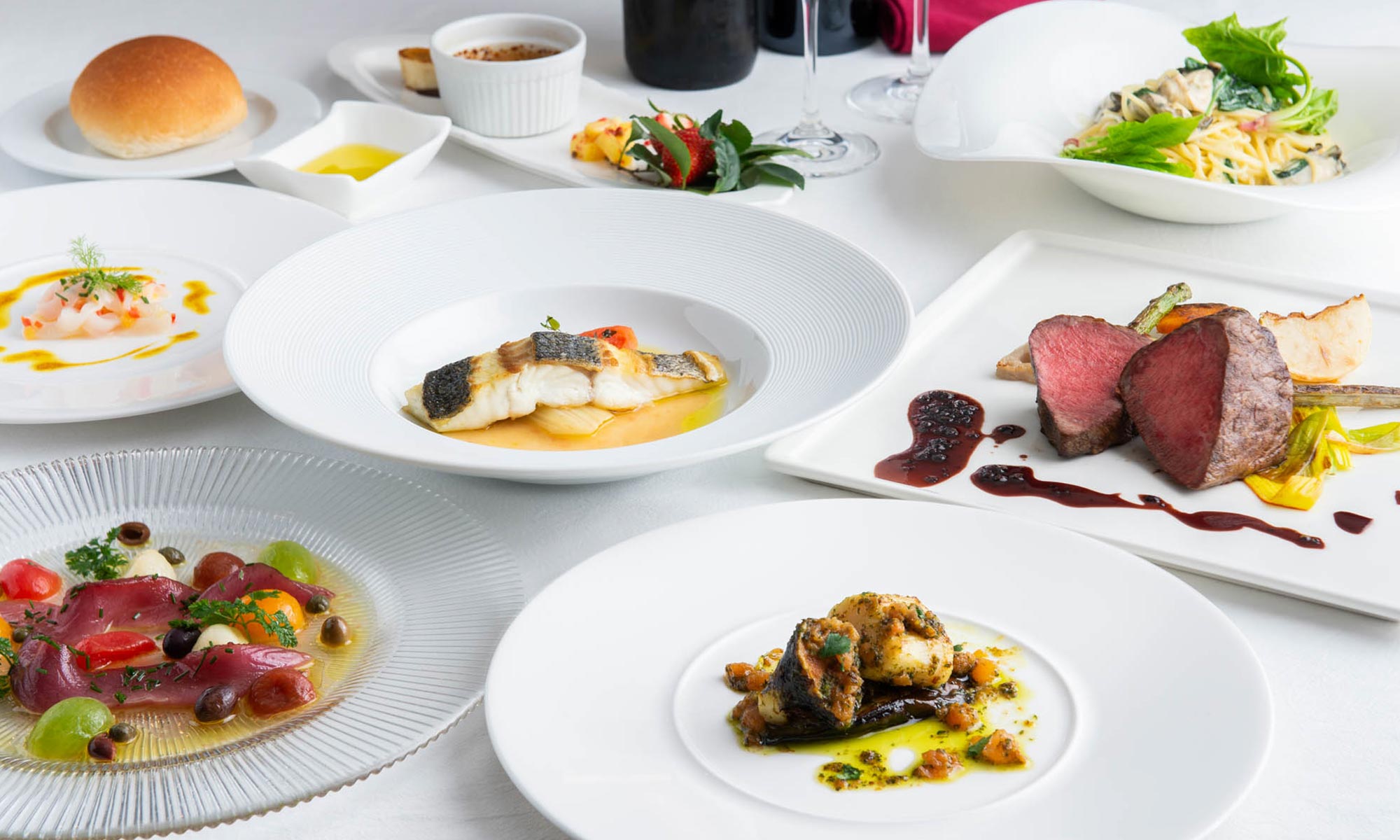 This restaurant specializing in Goto cuisine is produced by Masayuki Okuda, owner-chef of Al-ché-cciano.

The Goto Islands have a thriving ecosystem, both in the sea and on land. The fresh ingredients that can be caught and gathered in this region are blessed with the delicious flavors of that natural bounty. Using these choice foodstuffs, Chef discovers the most delicious ways to prepare them, heedless of categories but leaning toward Italian and French techniques.

Relying chiefly on the ingredients of the Goto Island, Chef serves up dishes that will make you say, "I didn't know this food could be prepared this way!" Come and enjoy Goto cuisine as it can only be experienced here.
PROFILE

Producer: Masayuki Okuda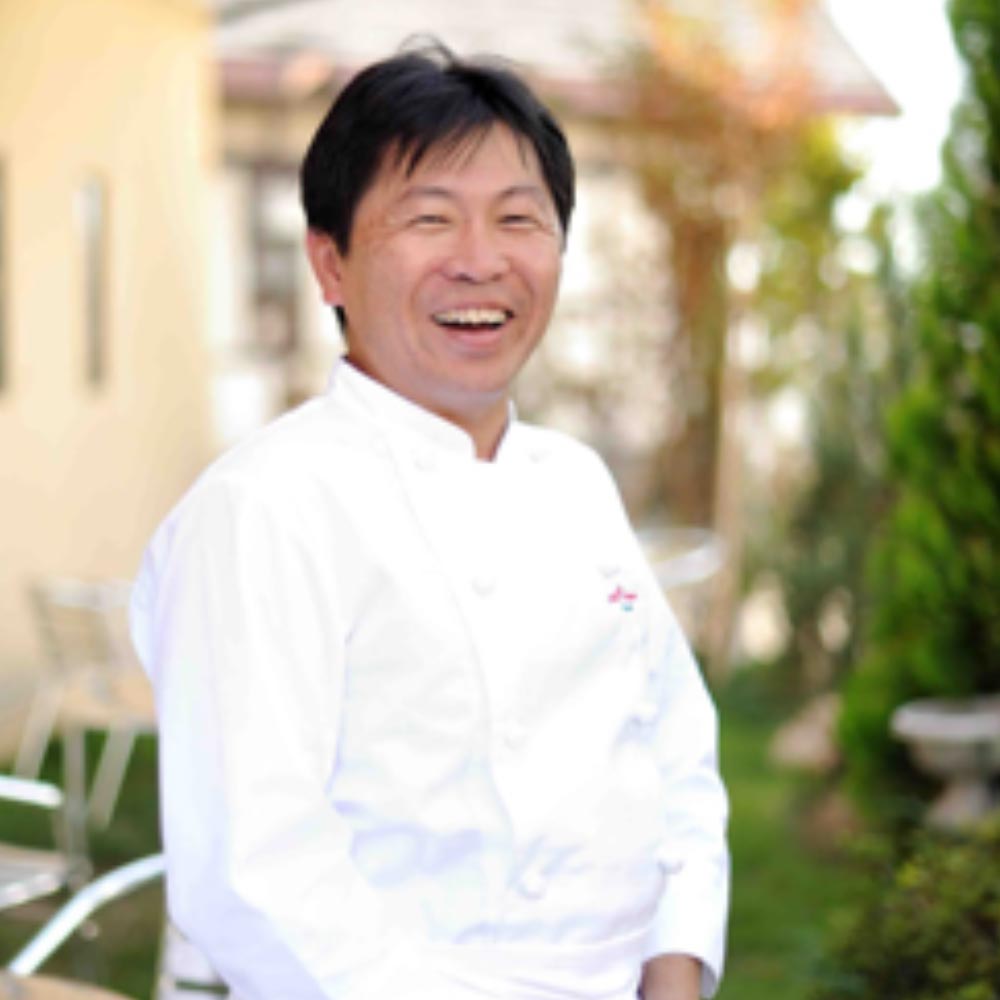 Masayuki Okuda is the owner-chef of Al-ché-cciano, an Italian restaurant in Tsuruoka City, Yamagata Prefecture.
From his base in Tsuruoka, Chef Okuda leads the culinary movement of local production for local consumption, under the rallying cry, "A healthy Japan through better eating!"
Chef Okuda's contributions toward registration of Tsuruoka as a City of Gastronomy in the UNESCO Creative City Network earned him a public commendation for distinguished service.
Today Chef Okuda produces restaurants throughout Japan offering cuisine made with local ingredients. In so doing he creates beacons of information about regional foodstuffs.
In 2006 Chef Okuda was selected by the international headquarters of the Slow Food movement as one of the world's 1,000 greatest chefs.
Chef Okuda continues to serve as an evangelist for Japanese food and culinary culture worldwide. He has supervised the food preparations at festivals around the world, including the final dinner at Terra Madre 2010 in Turin, Italy, and Japan Night 2012 at the 2012 Davos conference in Davos, Switzerland. In 2012 he was granted an audience with the Pope in Vatican City, where he presented Japanese foodstuffs, touting their safety and cleanliness.
PROFILE

Chef: Tatsuya Koizumi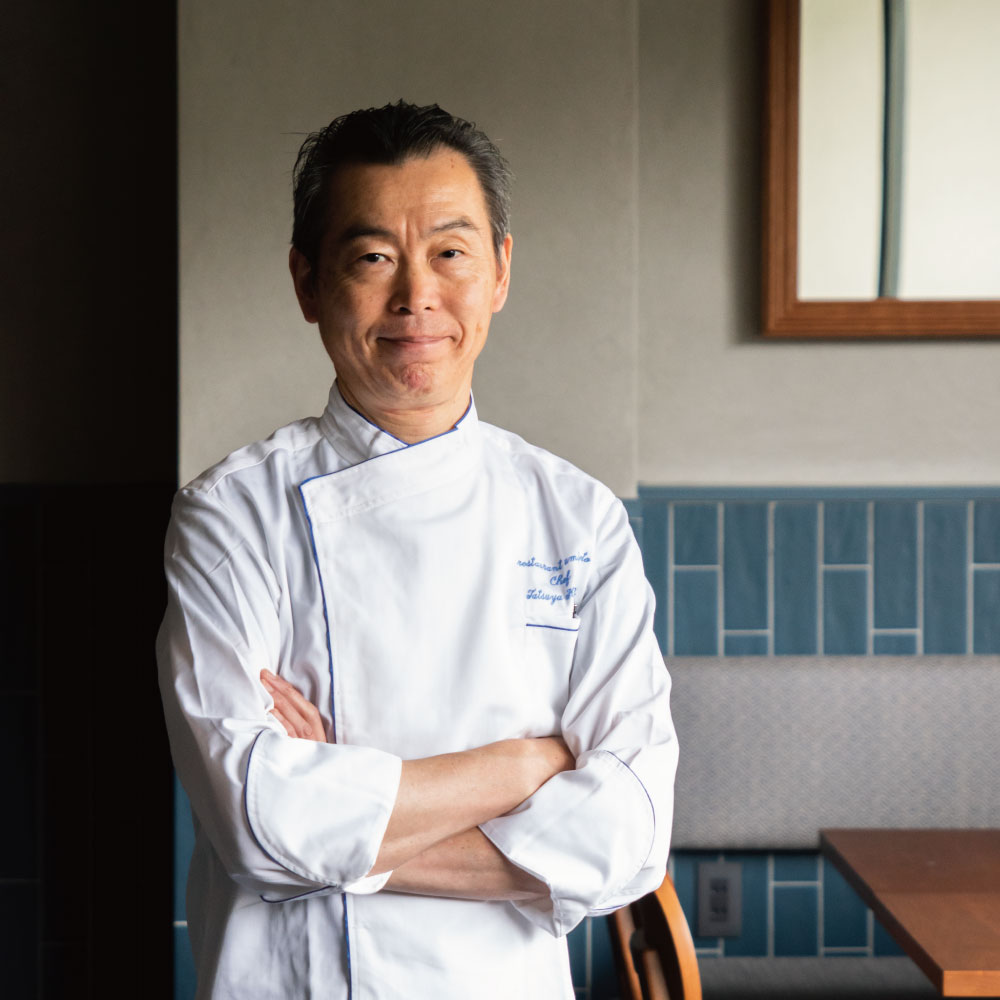 Tatsuya Koizumi entered the world of gastronomy at the age of 18. After serving as sous-chef at Bistro Bonne Femme in Akasaka, Tokyo, at the age of 26 Koizumi moved to France. There he apprenticed at many of France's most celebrated restaurants, including Côte d'Or, L'Espérance and La Terrasse. Returning to Japan at the age of 30, Koizumi took on a succession of positions at famous restaurants and hotels.
As chef de cuisine at resorts in various regions of Japan, Chef Koizumi served dishes prepared using local ingredients. As a master of vegetable cuisine, Chef Koizumi excels at creating irresistible dishes with inspired technique from local foodstuffs.
The Goto Islands are richly blessed with delicious ingredients. The seafood in particular is extraordinary. Chef Koizumi brings you the flavors of the seas around the Goto Islands with technique and panache honed over many years.
LUNCH MENU

Lunch Menu (11:45 AM to 2:00 PM, last order 1:30 PM)
Al che-cciano 's pasta lunch / ¥1,700

Lunch set consisting of today's salad + bread + choice of pasta(Cream pasta +¥200) + drink

Poiret of seasonal fish "umigoto" LUNCH / ¥2,000

Lunch set consisting of today's salad + bread + seafood dish + drink

Grill of Goto pork "umigoto" LUNCH / ¥2,000

Lunch set consisting of today's salad + meat dish + drink
"mijoka" COURSE / ¥3,800

Lunch set consisting of today's appetizer + soup + today's pasta + meat dish + dessert + drink
DINNER MENU

Dinner Menu (17:30~21:30/LO 20:00)
"MIJOKA" DINNER PLAN / ¥3,500

Prix fixe dinner of today's salad + today's pasta + meat dish + dessert + drink (Available by advance reservation Poiret of meat dish +¥1,200)

"AOKA" DINNER COURSE / ¥5,000

Prix fixe dinner of today's appetizer + soup + today's pasta + seafood dish + meat dish + dessert + drink

"UMIGOTO" DINNER COURSE / ¥7,800

Prix fixe dinner of today's amuse-gueule + 2 appetizers + pasta + seafood dish + meat dish + dessert + drink
RESERVATION
| | |
| --- | --- |
| Phone number | +81-959-42-5090 |
| E-mail address | umigoto@hotelaoka.com |
| Closed | Every Irregular |
| Hours of operation (Lunch) | 11:45 AM to 2:00 PM, last order 1:30 PM |
| Hours of operation (Dinner) | 5:30 PM to 9:30 PM, last order 8:00 PM |
RECRUIT

Positions Available
Job description
(A) Hall staff: You will be working in the hall, mainly serving customers. If you like dealing with people and have a cheerful disposition, you're right for this job!
(B) Kitchen staff: A professional chef will provide you with thorough training. This is your opportunity to learn how to cook with carefully selected ingredients sourced on Kamigoto!
 
Terms and conditions
(1) Full time: ¥170,000 to ¥350,000 per month
(2) Part time: ¥800 per hour
Other
Experienced applicants welcome! Even if you have no experience, enthusiastic individuals are invited to apply!
  
Contact information for job inquiries
+81-959-42-5090 Contact person: Nakazima